---
Our Vision
A well-organized and disciplined group of Canadian Muslims seeking Allaah's pleasure by pursuing excellence and striving for the personal and collective objectives of Islam within the Canadian mosaic as per the prophetic model.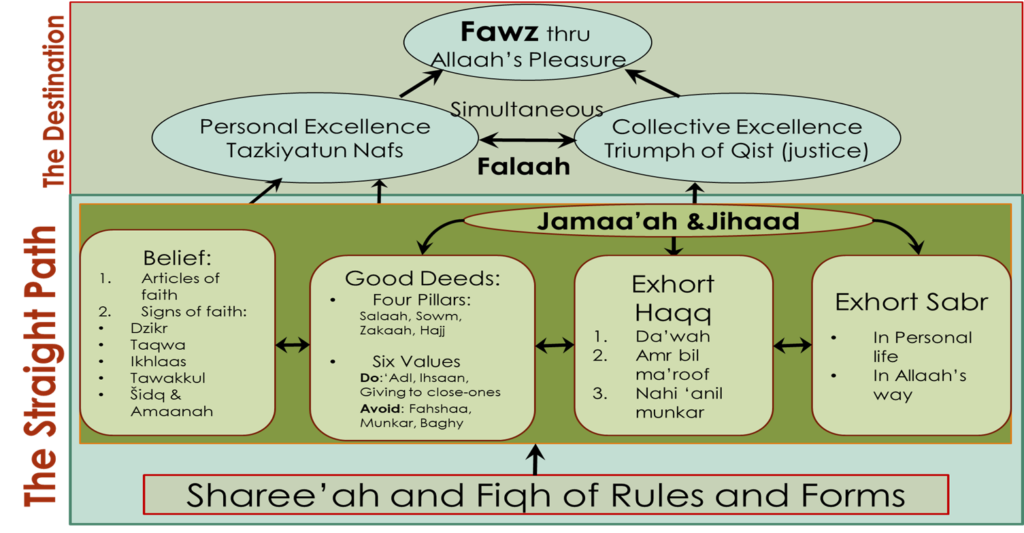 Providing, arranging and managing Islamic centres for Salaah, Islamic education and social activities, catering to the needs of and affording a welcoming atmosphere to all segments of Muslims community — males, females, youth and seniors.

Organizing and leading the community in achieving the Islamic Objectives of Deen such as:


Pursuing personal excellence;
Improving the condition of Muslims in terms of understanding and practice of Deen;
Increasing the number of Muslims by sharing Islam and having friendly, constructive dialogue with non-Muslims;
Correcting and improving the perceptions about Islam and Muslims in the Canadian society; and
Serving the humanity at large.

Components of the Vision Statement
Well-organized = It will not be a loose association of individuals; rather, like a sports team, it will be an organized team dedicated to work for its mission (see the mission statement). The members will be organized through the principles of Salaah, led by a visionary leader and managed through the consultative (democratic) process, in the manner of the original concept of the Islamic Jama'ah.

Disciplined = the members will take their volunteer roles in the organization seriously and follow the directions in a disciplined manner in the Islamic spirit of listening and obeying, operating just like a duly assembled, operational machine.

Canadian Muslims = Although this qualifier limits its memberships to Muslims living in Canada, it most importantly underscores that it will be inclusive of all kinds of Canadian Muslims who commit to its objectives, bylaws, vision, mission and values.

Seeking pleasure of Allaah = people must take MNN membership or serve as volunteers solely for this purpose. Enunciating this reality is extremely important to ensure that those who join MNN come to it with the right intention and those who constitute MNN can continue to be reminded of this prerequisite purity of intention on an ongoing basis through this vision statement.Most organizations suffer with strife and internal fights when many new people join because of their political and other ulterior motives. To discourage such occurrence, presence of this phrase in the vision statement cannot be over emphasized.

Pursuing personal excellence = those who associate with MNN should become conscious and desirous of pursuing personal excellence through the process of Tazkiyah.

Striving for the personal and collective objectives of Islam = This is the prime reason for MNN existence and is also the link to the mission statement — helping its members and clients attain, both individually and collectively, the objectives for which Allaah swt bestowed us Islam.

Within the Canadian Mosaic = Its activities and efforts will nicely supplement and cohesively enhance the Canadian Mosaic.

As per the prophetic model = MNN will follow the beautiful model of the Prophet in the way he lived and taught to live as a minority.